Victorinox is best known as the producer of the famous Swiss Army knife, the world's premier tool for the modern-day go-anywhere and do-anything adventurer. Less well-known is the fact that they also produce a wide variety of other goods, such as flashlights, cutlery, and watches — but all to the same exacting standards that govern the production of their knives. This Infantry Vintage watch is a sturdily-constructed and feature-packed representative of their wide and growing collection of watches.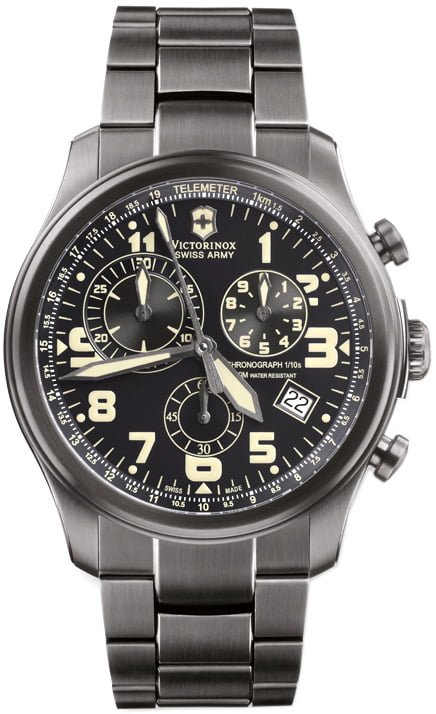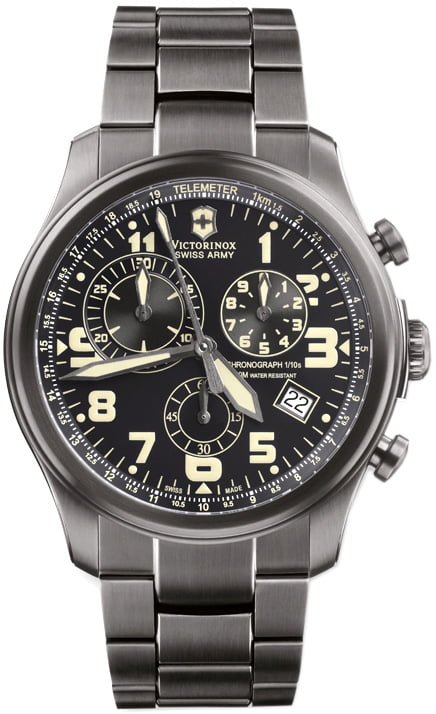 Description
The Infantry Vintage boasts all the features one would expect a Swiss Army watch to offer. It of course delivers on the basics, with a black dial, large, tan-colored hands, similarly colored hour indices, and a date display where the 4 o'clock mark would ordinarily be located. There are three subdials, as well, which offer keep track of the hour, minute, and second, enabling this watch to keep you on schedule down to the instant.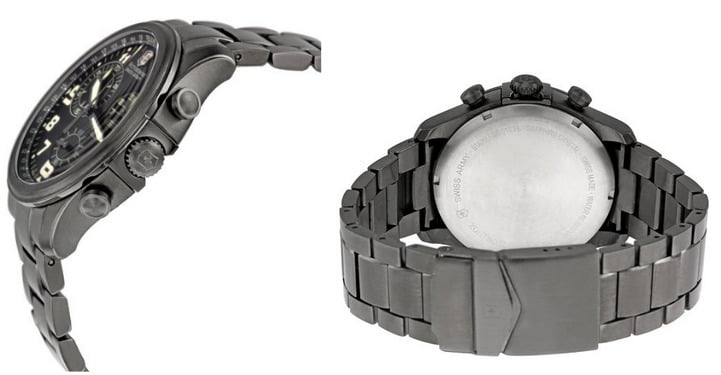 The dial is gunmetal in color and machined from stainless steel for extra durability, and the protective glass over the watch's hands is anti-reflective, so you won't have to contend with glares getting in the way of your reading the time, as well as ding- and scratch-resistant. The strap is of standard length and is colored gunmetal, to match the dial, and is itself made from stainless steel, contributing to the hefty two pound weight. The watch's movement is controlled by a quartz module, famous for its reliability and longevity, and it features both stopwatch and timer functions.
Finally, this watch is water-resistant to a depth of 100m (or 330ft), ensuring that it can withstand any minor exposures to water, and even submersion to a reasonable depth.
Conclusion
The Infantry Vintage is a smartly colored, well-machined, prettily designed timepiece that offers everything a Swiss watch should. Everything about it, from its gunmetal coloring, stainless-steel material, and hour, minute, and second chronograph function make it a highly aesthetic, highly functional timepiece.

The Raw Numbers: Product Specs & Feature List
Dimensions: 5.1 x 5.4 x 4.7"
Product Weight: 1.8lbs
Display Type: Analog
Case Material: Stainless Steel
Band Material: Stainless Steel, men's standard length
Band Color: Silver
Dial Color: Black