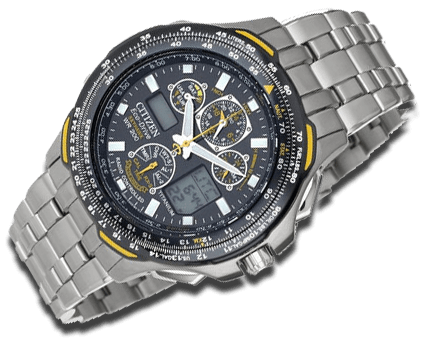 The Citizen Titanium Eco Drive watch can best be described in one word; as a "MULTIFUNCTION" Wrist Watch. It is a perfect balance of design as its simplicity and numerous functions are built to suit your everyday lifestyle. Diving with this watch is just fun as it's water resistance ability support a depth of about 200m (approximately 660 feet).
This magnificent timepiece is perfect, strong, durable and accurate. Its self-adjust every 24hrs to maintain time-keeping accuracy leaving you with no option than to keep loving it. It is a beautiful piece to behold in the dark as the luminescent dials shines in the dark making it even easier to tell what time it is even in a dark room. Titanium is one of the toughest (yet lightest) metal; therefore this piece is very light in weight and comfortable to wear as you won't even feel there is something in your wrist.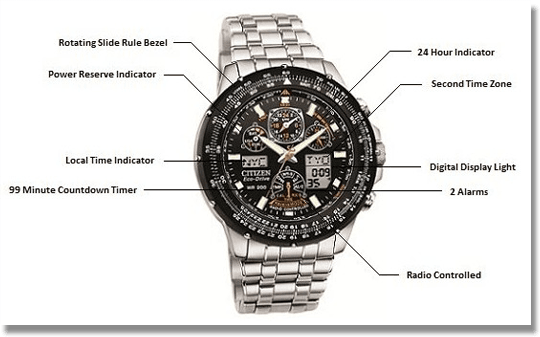 Citizen Men's JY0050-55L Titanium Eco-Drive Watch Features

–         Two alarms
–         Atomic timekeeping with radio-controlled accuracy
–         World time in 43 cities
–         2 alarms
–         1/100 second chronograph that measures up to 24 hours
–         99 minute countdown timer
–         Digital display light
–         Greenwich Mean Time display
–         Rotating slide-rule bezel
–         Non-reflective mineral crystal
–         Power-reserve indicator
Citizen makes the learning curves for this watch very interactive to their new owners by providing a user guide coupled with an interactive CD to enable them not only read but also see how the Titanium Eco-Drive Watch first time out of the box configuration is done.