Citizen makes some of the world's most recognizable and reliable wristwatches. The World Time A-T Limited Edition model, released in 2011, is a hefty, fully-featured timepiece!

The first thing you'll notice about this Citizen offering is its appearance. The watch features luminous silver, sword-style hands, which are easy to read and provide a striking contrast to the black coloration of the watch's base. The hours are marked off in orange Arabic numerals, starting at 12 and appearing at two-hour intervals.
The hours in between are represented by polished silver bands with orange accents. White lettering is used for world city names on the outer dial, as well as for the numbers and letters in the military-time and day-of-the-week subdials.
The dial and watch case are both machined from brushed stainless steel, and are silver in color. The strap is black crocodile leather, with bright orange accents near the watch casing, and features a push-button deployment buckle for guaranteed stability.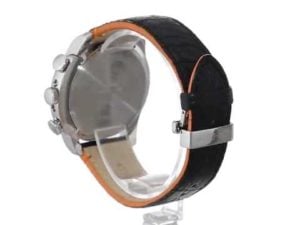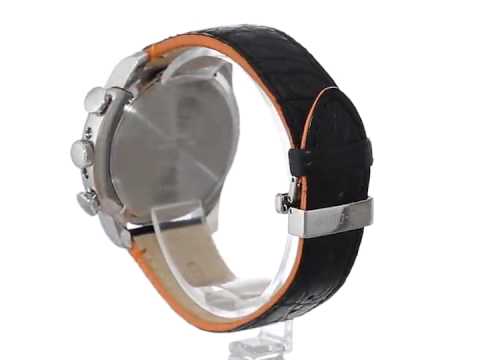 It is of standard length, and measures at 22 mm wide: This ensures that it will sit secure on the wrist and handle all the stress a watch band will be subject to, but without being uncomfortably thick or sharp.
The A-T really shines in its special features, though. It is an Eco-drive watch, meaning it is powered by light alone, so that it never needs a battery, and its movement is controlled by a Japanese quartz module, ensuring extreme reliability and timekeeping accuracy that will only falter after centuries of use. The protective covering on the dial window is glare resistant and tempered to withstand scratches and bumps, and the casing is engineered to be water resistant to up to 200m (or 660ft), ensuring that you can take this watch into the rain, out on the kayak, or even under the water for a snorkeling excursion without worrying about incurring damage.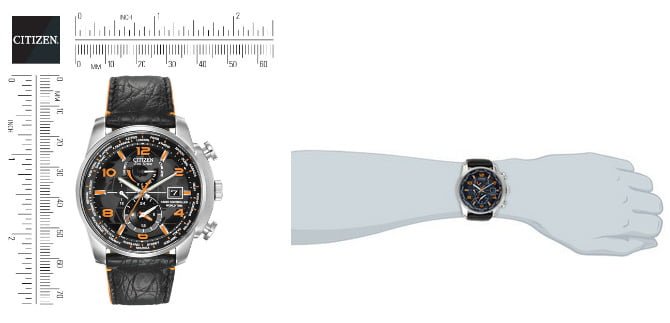 ---
Conclusion
This Eco-Drive watch from Citizen is not the most extravagantly decorated watch on the market, nor does it boast some of the heavy-duty or specialized features found in military watches or those dedicated to specific sports such as surfing or skydiving. But, its world time feature, sleek color scheme, and crocodile leather strap distinguish it as a high-quality and highly reliable general-purpose watch that is sure to suit any average buyer.