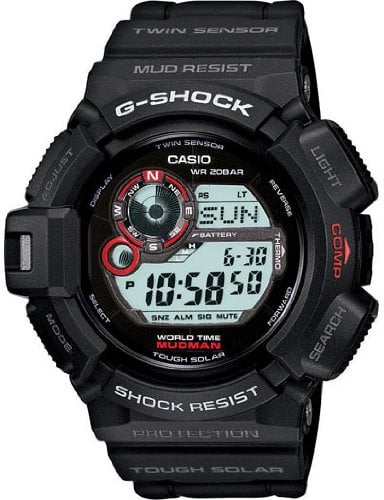 The Casio g shock mudman Digital Dial Men's Watch is a solar powered (like the Citizen Watches & the Seiko SSC081) watch with great shock resistant. As hinted from the title, this is a MUDMAN G-SHOCK watch. As we all know, G-SHOCKS are excellent watches but also being a MUDMAN makes the Casio g shock mudman men's watch a more superior model to reckon with.
Features of Casio g shock mudman
–         Solar powered
–         High shock resistant
–         Dirt, dust and mud-proof
–         Inbuilt digital compass and thermometer
–         World time with 4 daily alarms
–         Moon data functionality
–         And much more.
The g shock watch is shielded in a strong armored casing which is mud and dirt-proof. The watch has an inbuilt compass and thermometer which functions at insane precision out of the box with minor fine-tuning on your part.
So if you are interested in a military watch or outdoor use with a life span of more than 5 years, then you should probably check this Casio g shock mudman Digital Dial Men's Watch out.