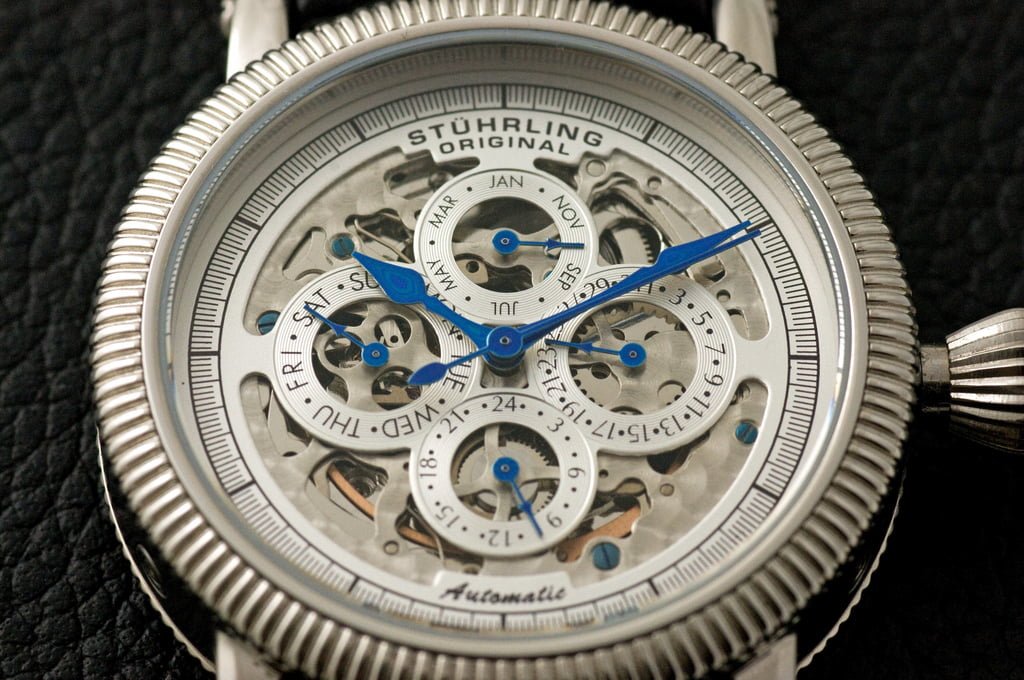 If you've only ever shopped for watches at brick-and-mortar retailers, the name "Stuhrling" may not mean much to you, as the company focuses almost exclusively on online and television sales (mostly the former). However, if you are in the market for a new watch, Stuhrling is definitely a brand that is worth investigating, as they create beautiful, and interesting timepieces for every price range and occasion.
Quick Comparison of the Top 10 Best Watches from Stuhrling
Aquadiver Collection
The Aquadiver collection is "inspired by the prestigious lifestyle of yacht racing" and currently includes 33 different watches. These watches are marked by a bold and easy-to-read design that makes underwater time-telling a snap.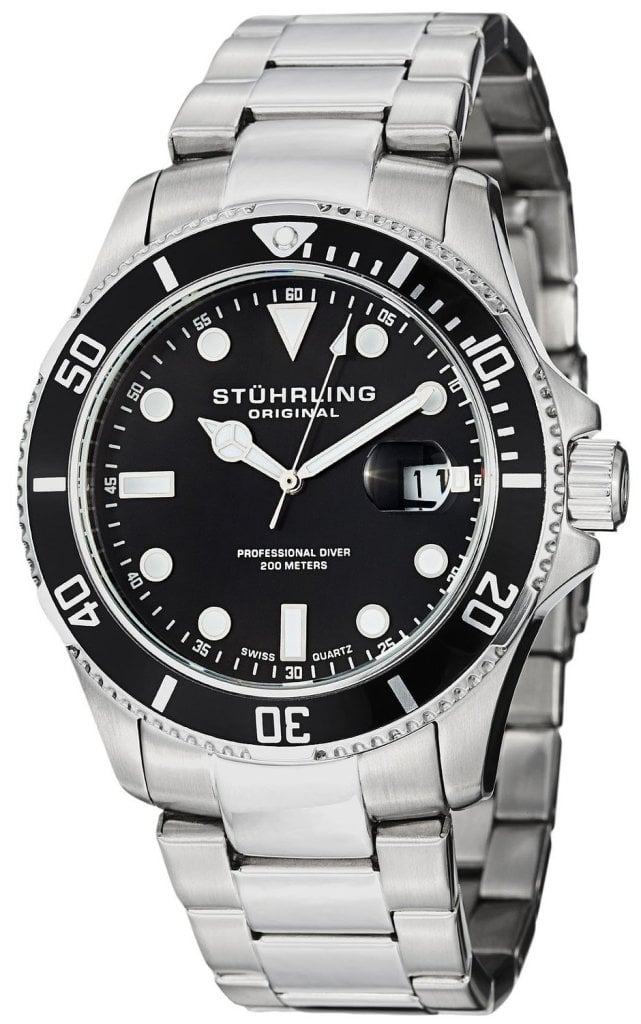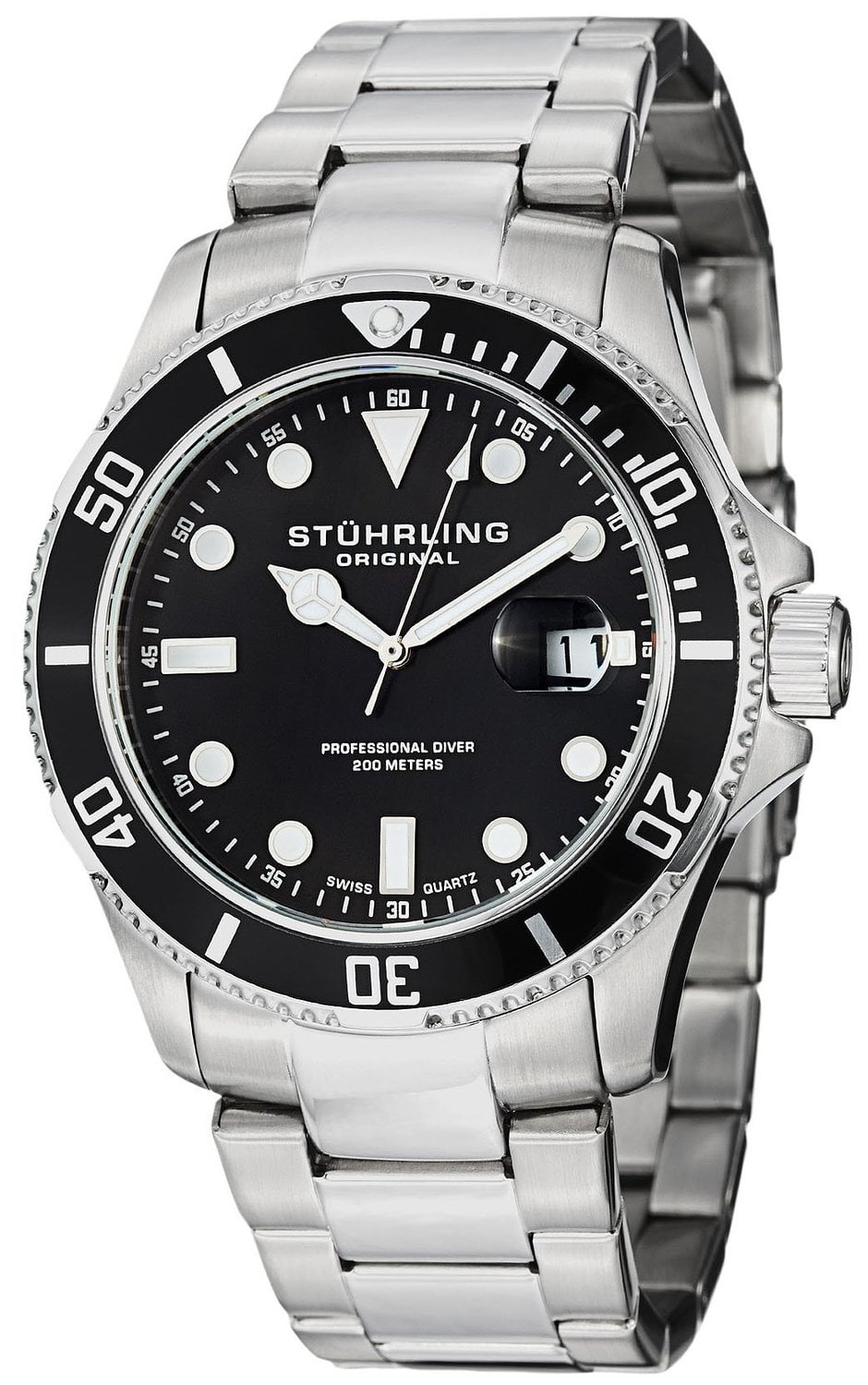 Water-resistant to 660 feet with a Krysterna crystal dial window and made of stainless steel
Water-resistant to 330 feet with a mineral crystal dial window and nylon-coated strap with genuine leather lining.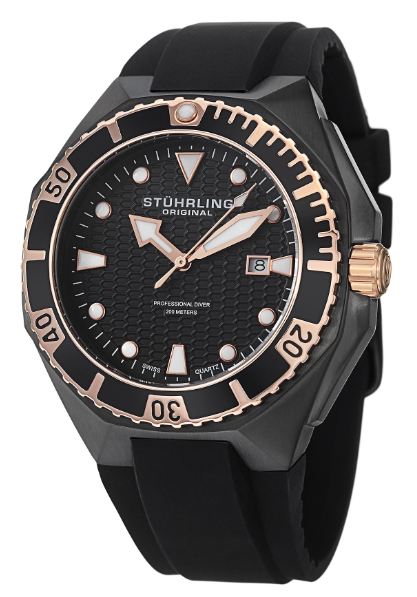 Water-resistant to 660 feet with a Krysterna crystal dial window.
---
Aviator Collection
Resilient, bold, and sharp, the Aviator collection from Stuhrling is designed to be reliable, classy, and easy-to-read. Stuhrling's website describes it as the "time-keeper for the ordinary, requisite for the hero." The watches in this collection have a prism-framed noon indicator and a sharp display.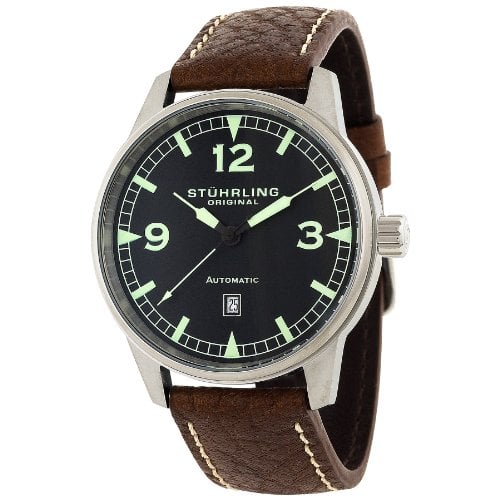 Features a genuine leather strap and water-resistance up to 165 feet.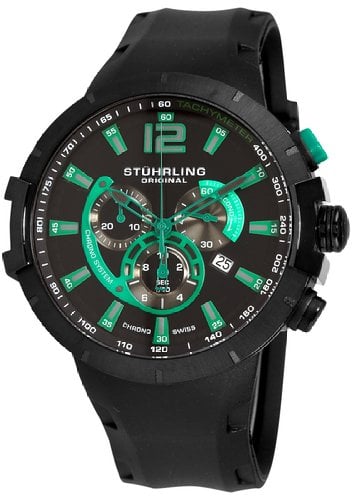 Features a snappy-looking black matte finish, the Phoenix Grand is water-resistant to 330 feet, and has a Krysterna crystal dial window.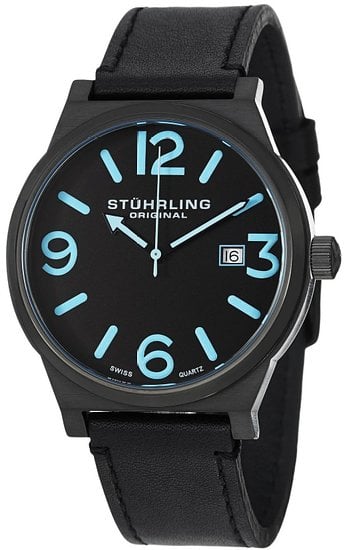 The Osprey is water-resistant to 165 feet, has a Krysterna crystal dial window, and has a genuine leather band.
---
Classique Collection
Stuhrling's Classique collection channels vintage design and finesse to create a line of watches that are unique while still having traditional appeal. There are currently 92 watches in this particular line.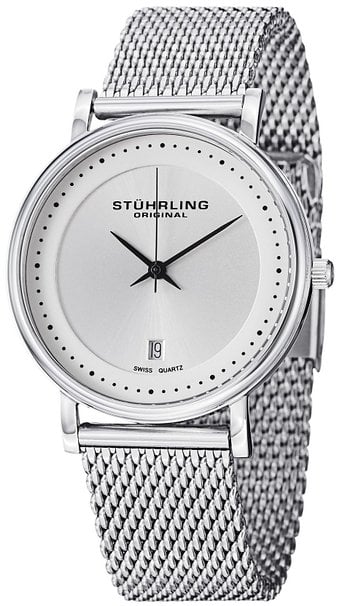 The Casatorra Elite is made of stainless steel, is water-resistant to 165 feet, and has a Krysterna crystal dial window.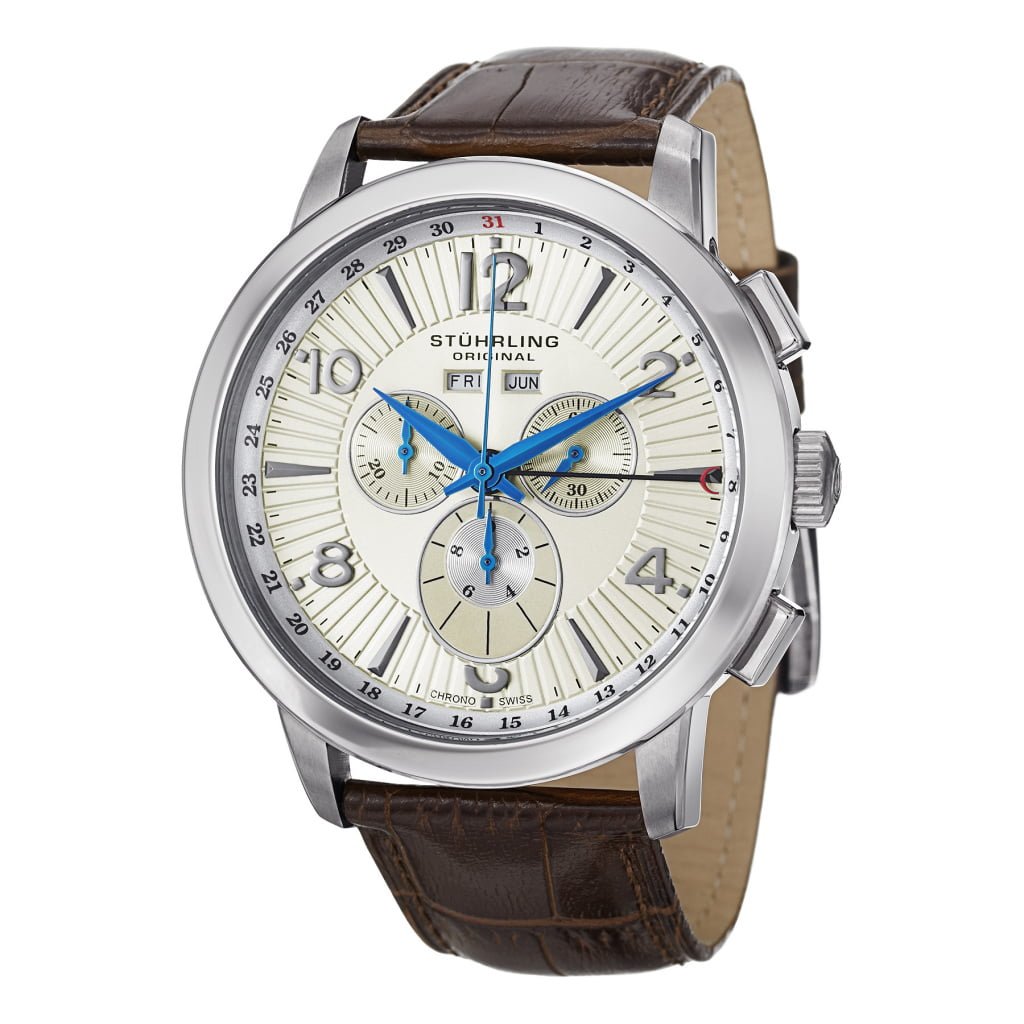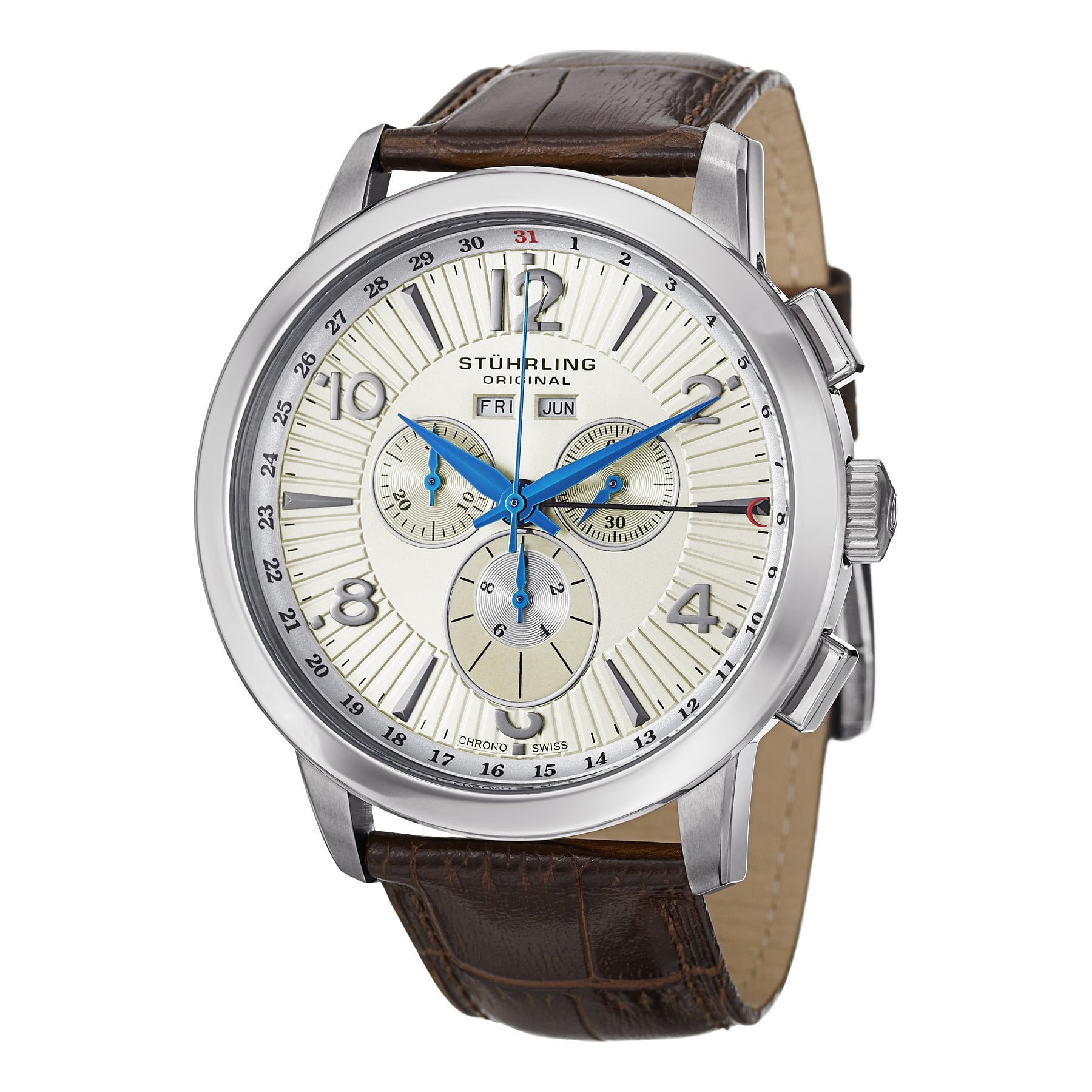 Features an alligator embossed leather strap, water resistance up to 165 feet, separate windows for the hour, minute, seconds, and date, 30 and 60 minutes counters, and a Krysterna crystal dial window.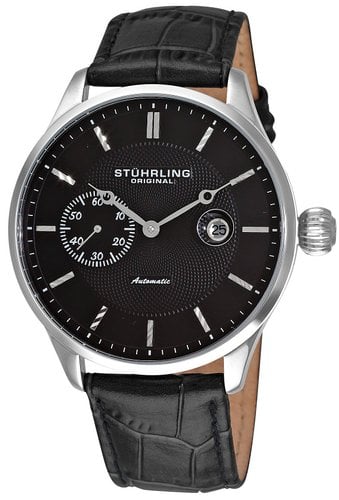 The Heritage Classic has an alligator embossed leather strap and is water-resistant up to 165 feet.
---
Legacy Collection
The Legacy collection watches have perhaps the most eye-catching design element as standard—skeletonized dials. These timepieces are little more non-traditional in appearance, but they are incredibly stunning and very awesome.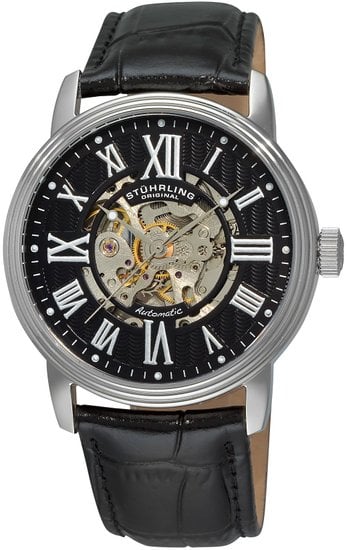 Featuring a black dial with bold silver accents and skeletonized center, the Delphi Venezia is classy and unique, as well as water-resistant to 165 feet.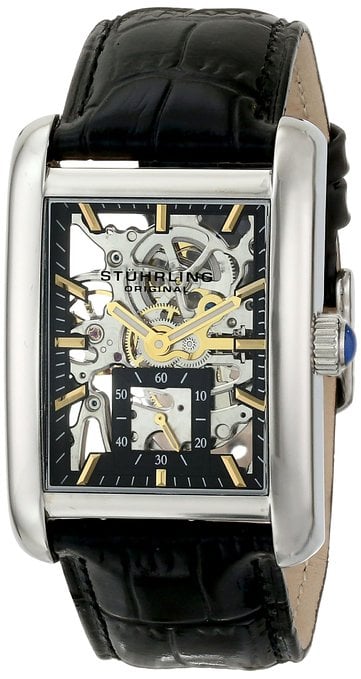 The Gatsby Plaza uses mechanical, not automatic movement and is protected by Krysterna crystal on both its front and back.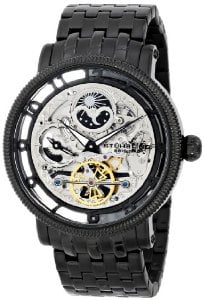 With its intricately skeletonized dial and black ion-plated stainless steel construction, the Symphony DT is certainly one of the more creative designs available from Stuhrling.
---
Monaco Collection
According to Stuhrling, the watches in the Monaco collection were "built from speed" and symbolize "endurance, tenacity, and determination." The design is sporty, yet still manages to maintain a classy and luxurious feel. There are 23 watches in this collection.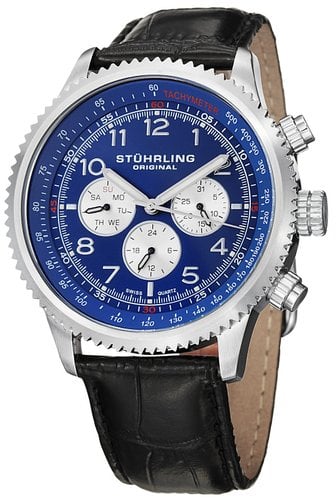 Not only is this watch water-resistant to 330 feet, it also has luminous hands for easy reading in the dark.
With its slick stainless steel design and clean white face, the Raceway is elegant, classic, and simply stunning.
---
Prestige Collection
The Prestige collection is defined by its elegance and ornateness, with designs ranging from sporty to traditional.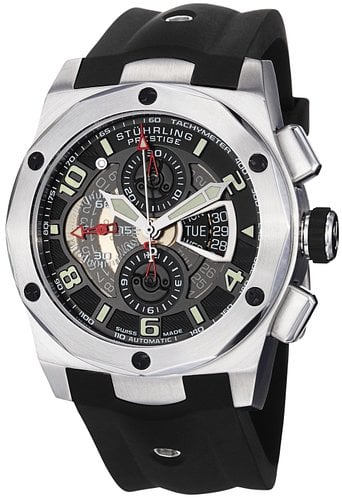 The Columbiad is one of the sportier watches in the Prestige collection and one of the most expensive Stuhrling watches available. It has a high-grade silicon rubber strap, is water-resistnat to 330 feet, luminous hands, and Krysterna crystal covering on the front and back.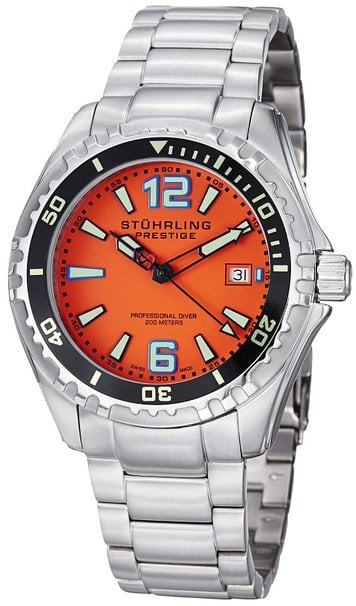 The Regatta Captain is made of stainless steel, has a sapphire crystal dial window, luminous hands and numerals, and is water-resistant to 660 feet.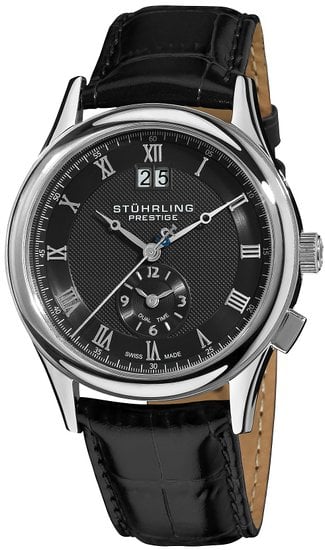 Featuring a slick black face with silver accents, the Laureate might be a cheaper watch in the Prestige collection, but it certainly doesn't look like it. It is water-resistant to 165 feet and has an alligator embossed band.
---
Renegade Collection
The Renegade collection is for those bold and daring individuals who are not afraid to stand out from the crowd and be unique. Featuring some of the most creative designs in their entire collection, Stuhrling's Renegade watches are sure to be noticed.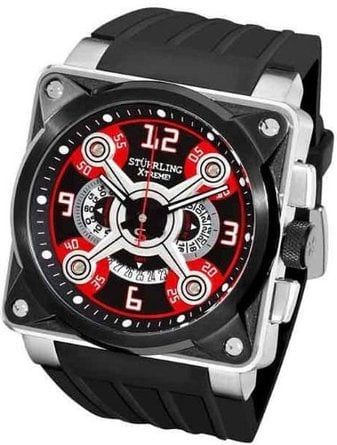 With its sporty design and red, black, and silver face, the Raven Crossfire was meant to catch eyes and make a statement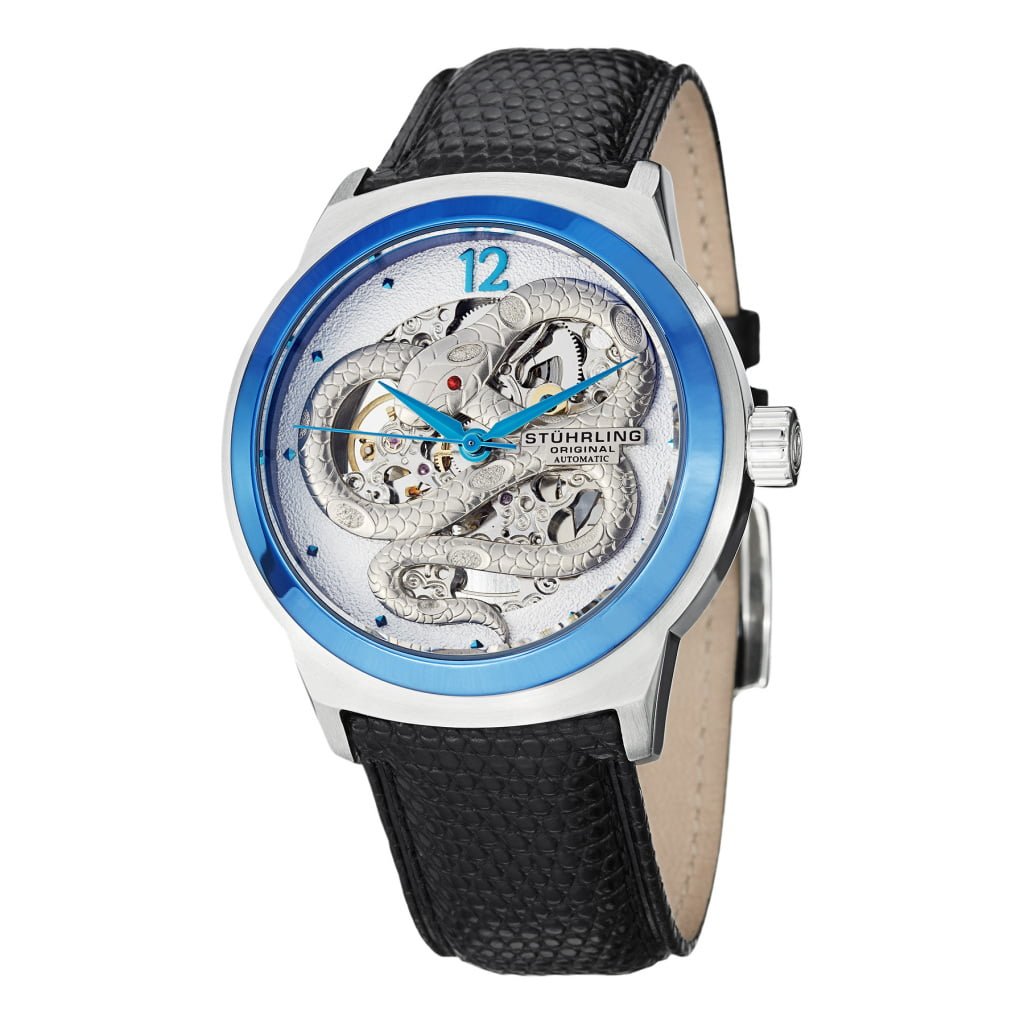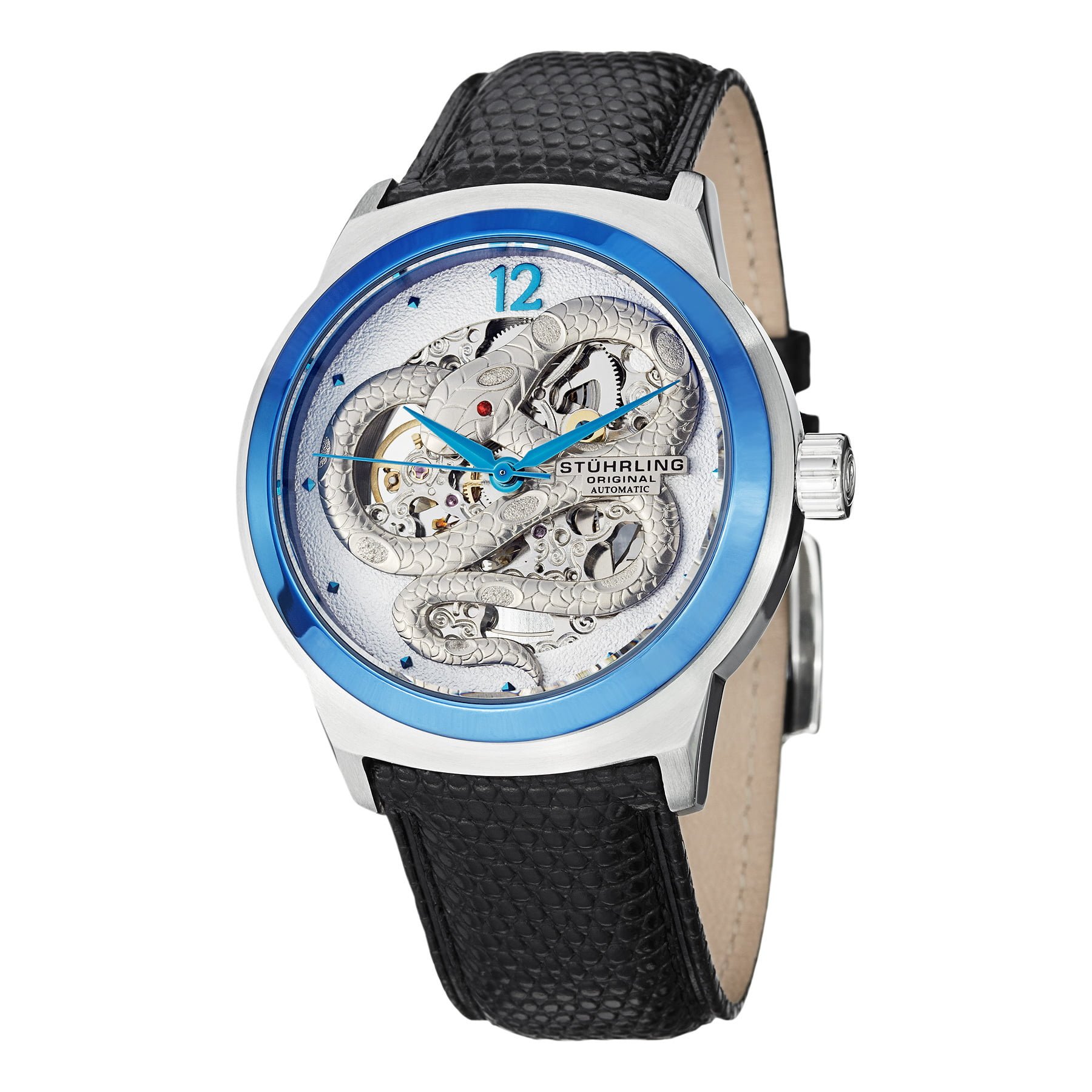 Finally, a watch for anyone in Slytherin! Not only does the dial feature a fierce serpent design, but it is also skeletonized. The blue-on-silver/white color scheme is sure to catch eyes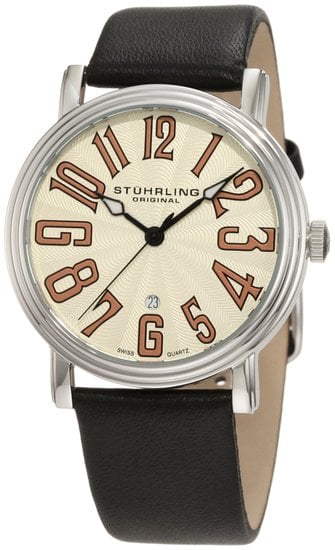 Featuring a champagne dial with brown and black accents, the Roulette puts a twist on the traditional watch face with its oversized spade hands (which are also luminous), giant numerals, and a visually interesting background design.
---
Special Reserve Collection
Unsurprisingly, there are only 14 different watches in the Special Reserve Collection, but they are almost all incredibly ornate and stunning and just as much pieces of elegant and handsome jewelry as they are a means of keeping track of the time.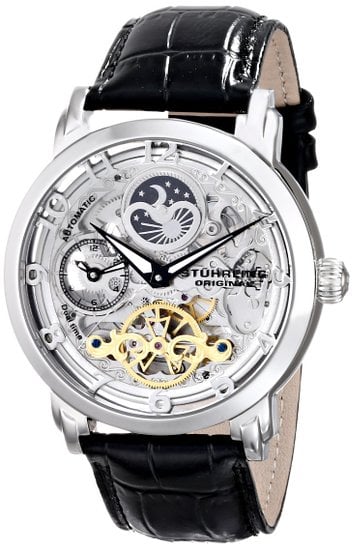 With its silver skeleton dial, dual time display, and gorgeous animated sun and moon display, the Winchester Revolution is an elaborate work of art as well as a timepiece.
---
Symphony Collection
Like those in the Renegade collection, the watches in the Symphony collection are much bolder and slightly more non-traditional than the other watches Stuhrling makes. Symphony watches are great for the person who "walks to the beat of their own drum."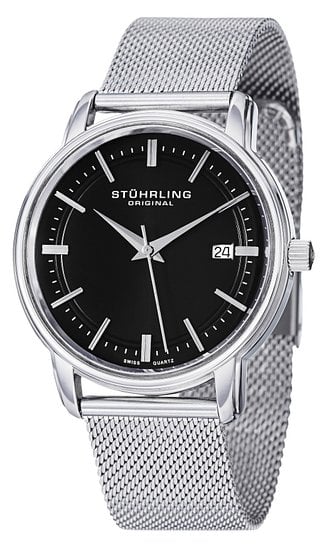 The Monmouth is water-resistant to 165 feet and protected by a dial window made from Krysterna crystal. With its bold, black face and otherwise minimalist design, this is a watch that manages to be both traditional and modern at the same time.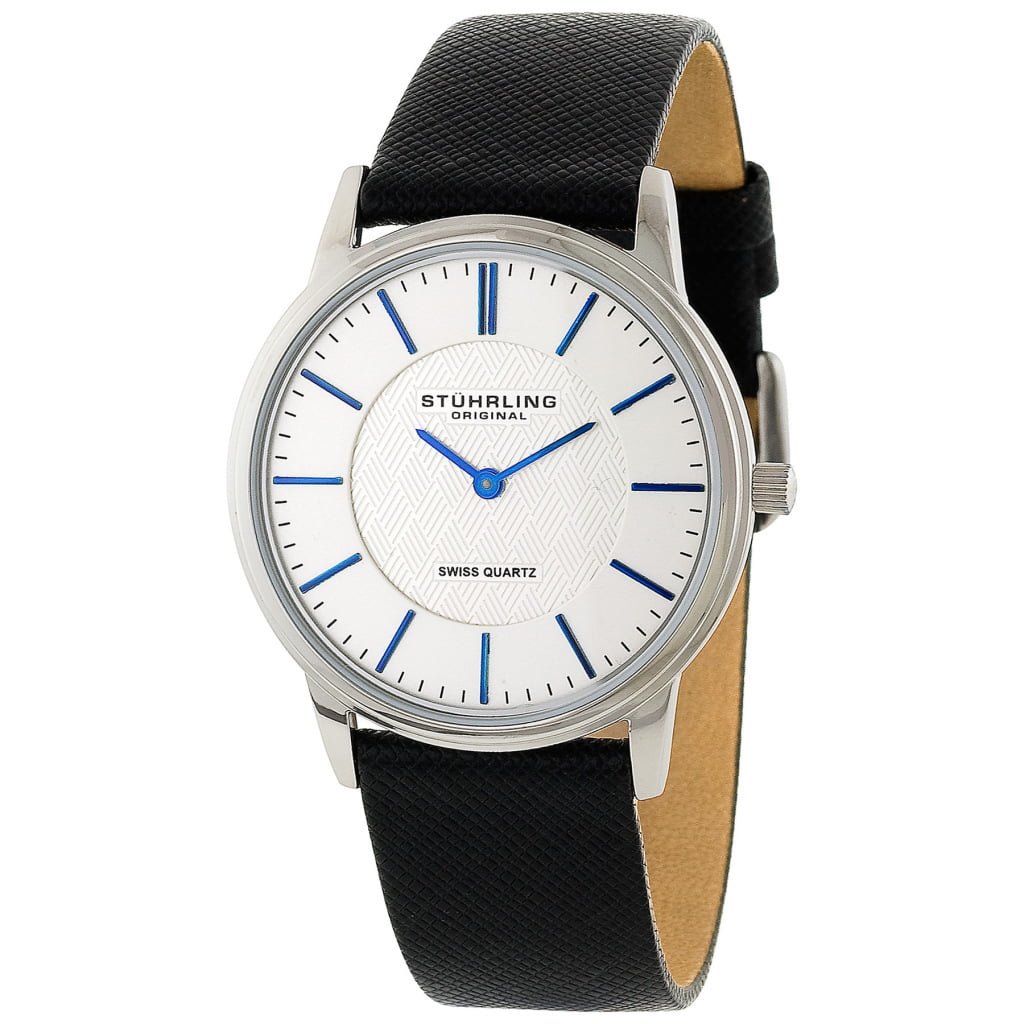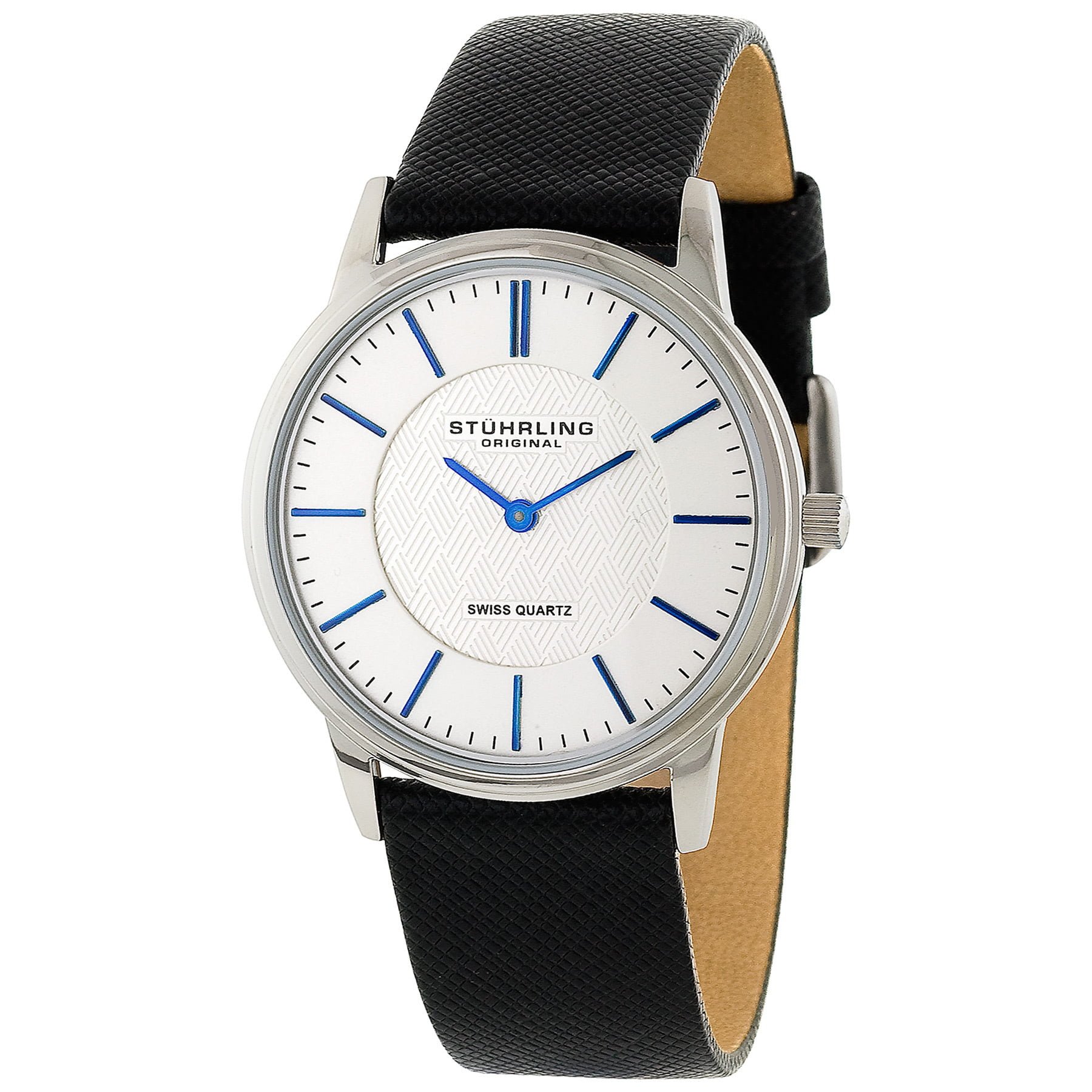 With its bright white face and electric blue numerals, the Ascot Solei brings a jolt of life to the wrist. It has a design that is both bold and minimalistic, yet still traditional.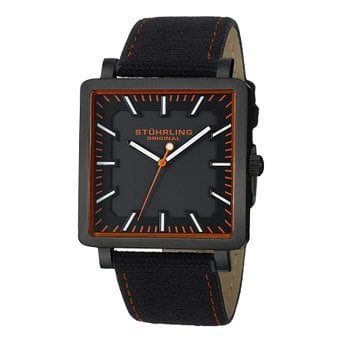 The Saratoga Sport is one of the more casual offerings in this collection, featuring a minimalist design with orange detailing, luminous hands, and a simple canvas strap.
---
Tourbillon Collection
The Tourbillon collection holds the most intricate designs in Stuhrling's men's department. Incredibly fancy and extraordinarily handsome, these are a perfect choice for the man in need of a formal watch or anyone who enjoys the beauty of tourbillon movement.
The Everest Tourbillon features exposed tourbillon movement on its face, a stunning silver-on-black design, and a real crocodile strap.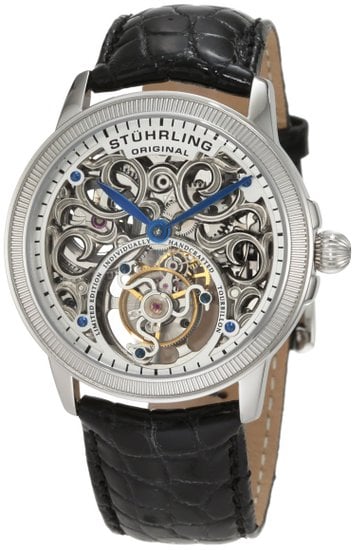 Between the fully skeletonized dial and the ornate design, this watch is beautiful and a marvel to behold when in action.
---
Advantages
Stuhrling has a huge selection of watches for both men and women (though the latter were not covered in this review), making them a great place to start if one is not sure of exactly what they want. There are a wide variety of styles and colors—almost anyone would be able to find at least one watch to love.
On top of that, many of their designs are very creative and interesting; their wide selection is actually made of watches that are very different from one another, rather than offering consumers what amounts to the same watch with just minute differences. They are a fabulous source of non-traditional designs. Additionally, Stuhrling sells replacement straps on their website and makes it easy to find the correct band for a particular model of watch.
Shopping with Stuhrling is also incredibly convenient because they are primarily an internet-based company and their products are available on a variety of sites, such as Amazon and Overstock.
Stuhrling creates watches that are very affordable while still being attractive, functional, and of high quality—no product of theirs looks or feels shoddily made.
---
Where are Stuhrling Watches Made?

Stuhrling products are made in state-of-the-art clean-room facilities in factories in Switzerland, where the family has its roots, and "the Far East," all of which are overseen by Swiss management. The Stuhrling family has a long history of skilled watchmaking that goes back to the 1800s with Max Stuhrling Sr. Since that beginning, the Stuhrling family has been involved in the watchmaking industry, though they usually simply worked for others. However, in 1999, Max Stuhrling IV, the great-grandson of the original watchmaker, began manufacturing and selling timepieces under the brand name Stuhrling Original.
Are Stuhrling Watches Good?
Stuhrling watches are made out of stainless steel, use alligator leather for the their leather-banded watches, and use either sapphire or krysterna crystal for the dial window to give their timepieces extraordinary protection, quality, and longevity.
Product Selection
Stuhrling creates watches suitable for all budgets. As of this writing, Stuhrling has manufactured over 4,500 different watch designs. There are currently 10 different collections in their men's department: Aquadiver, Aviator, Classique, Legacy, Monaco, Prestige, Renegade, Special Reserve, Symphony, and Tourbillon.
Stuhrling Watch Review – The Final Word on Stuhrling Watches
Stuhrling watches offer a great compromise between buying a watch that costs so much it requires selling extra organs on the black market to pay for it and buying a watch that looks like it came in a cereal box.
Their affordable pricing and huge selection of products makes finding a watch for any price range incredibly simple. Additionally, their creative and unique designs are a fabulous option for those who either do not like traditional watches or who simply like to stand out from the crowd. Due to all of these factors, Stuhrling is highly recommended to anyone interested in purchasing a new watch.