Our Top Choices
What Exactly Is a Mechanical Watch, and Why Do I Want One?
Mechanical watches use actual mechanical movements in order to keep track of the passage of time, instead of the electronic movements found in quartz watches. A modern quartz watch is capable of stunning accuracy, and because it's electronic, it can use a battery for power and never needs winding.
VIDEO:
HOW IT WORKS: Mechanical Watch
So why would anyone want a mechanical watch? There are lots of reasons. Firstly, they're some of the finest pieces of mechanical engineering ever produced by the hand of man. A finely crafted mechanical watch is like a work of art, and comparing it to a quartz watch is like comparing the Mona Lisa to a photograph of the Mona Lisa.
If you're trying to keep your search for mechanical watches, we've searched around a bit to find you the five best mechanical watches for the money
Top 5 |

Best Mechanical Watches for Men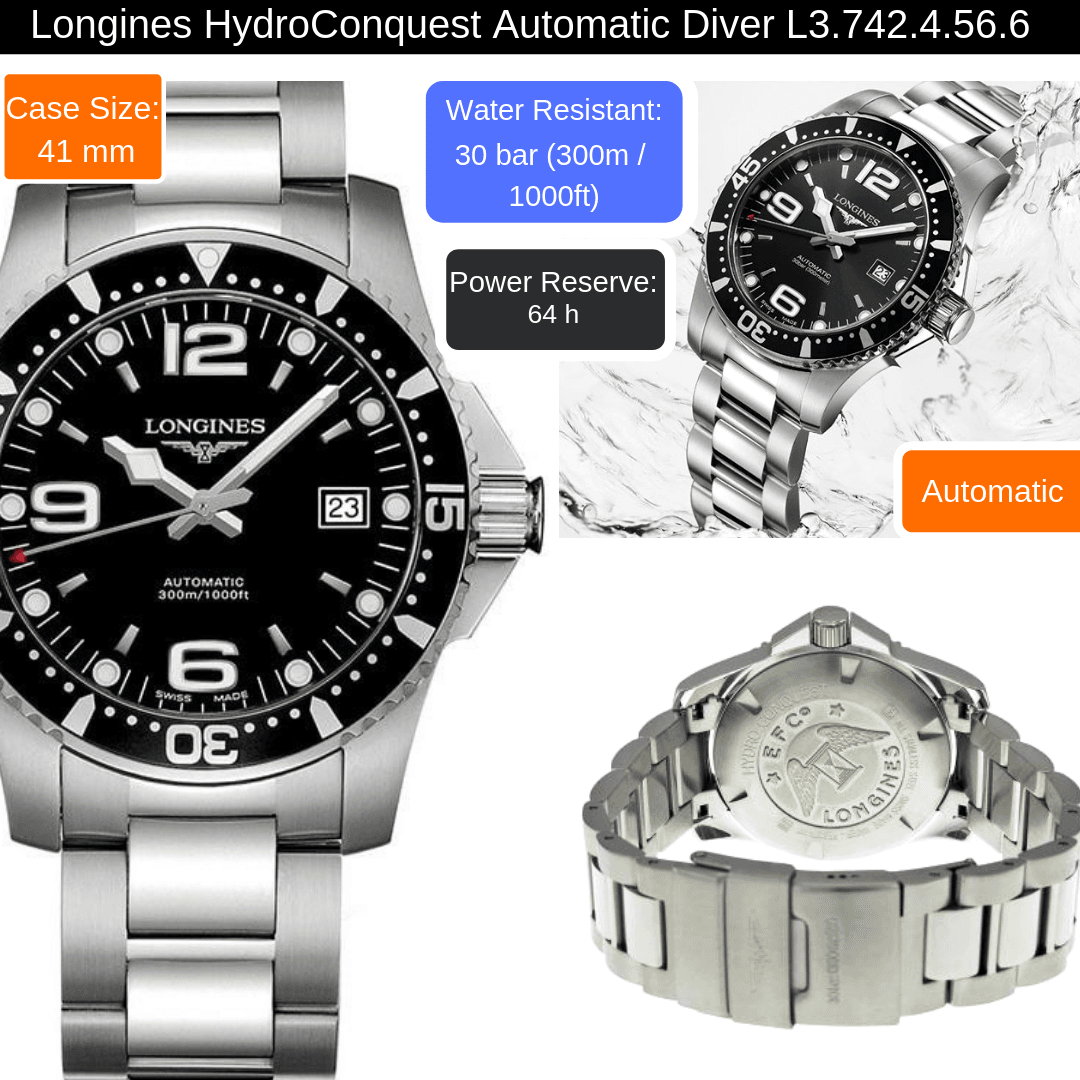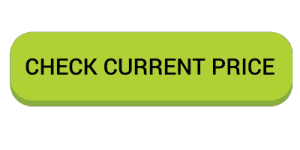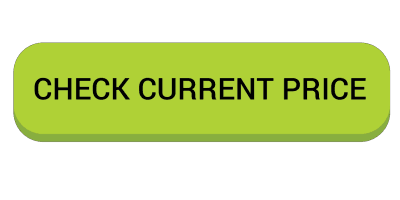 Longines is one of the most recognized names in fine timepieces. It's now part of the massive Swatch Group, who made their name on fun, fashionable, and quirky timepieces for the masses. The Longines is one of the most classic looking mechanical watches for men, with a bold blue dial face and bezel, with crisp, bold, silvery-white numerals and markings. It looks very masculine without looking brutish, and while it looks substantial on your wrist, it doesn't look like you're carrying a wall clock around like many sports watches do.
It has an extendable link bracelet band that looks and wears like the tread on a tank, if Ferrari made chrome tanks, that is. This watch looks great on your wrist in any setting, but it's optimized for use underwater. When you're choosing a watch to keep on your wrist at all times, you don't want to worry about water.
The Longines is designed as a dive watch, and the band is made to slip over your wetsuit without a hitch, and then return elegantly to its regular size for dinner after. Old-school purists will love its screw down crown, and the dial displays hour, minute, and second markings and other information without looking crowded.
---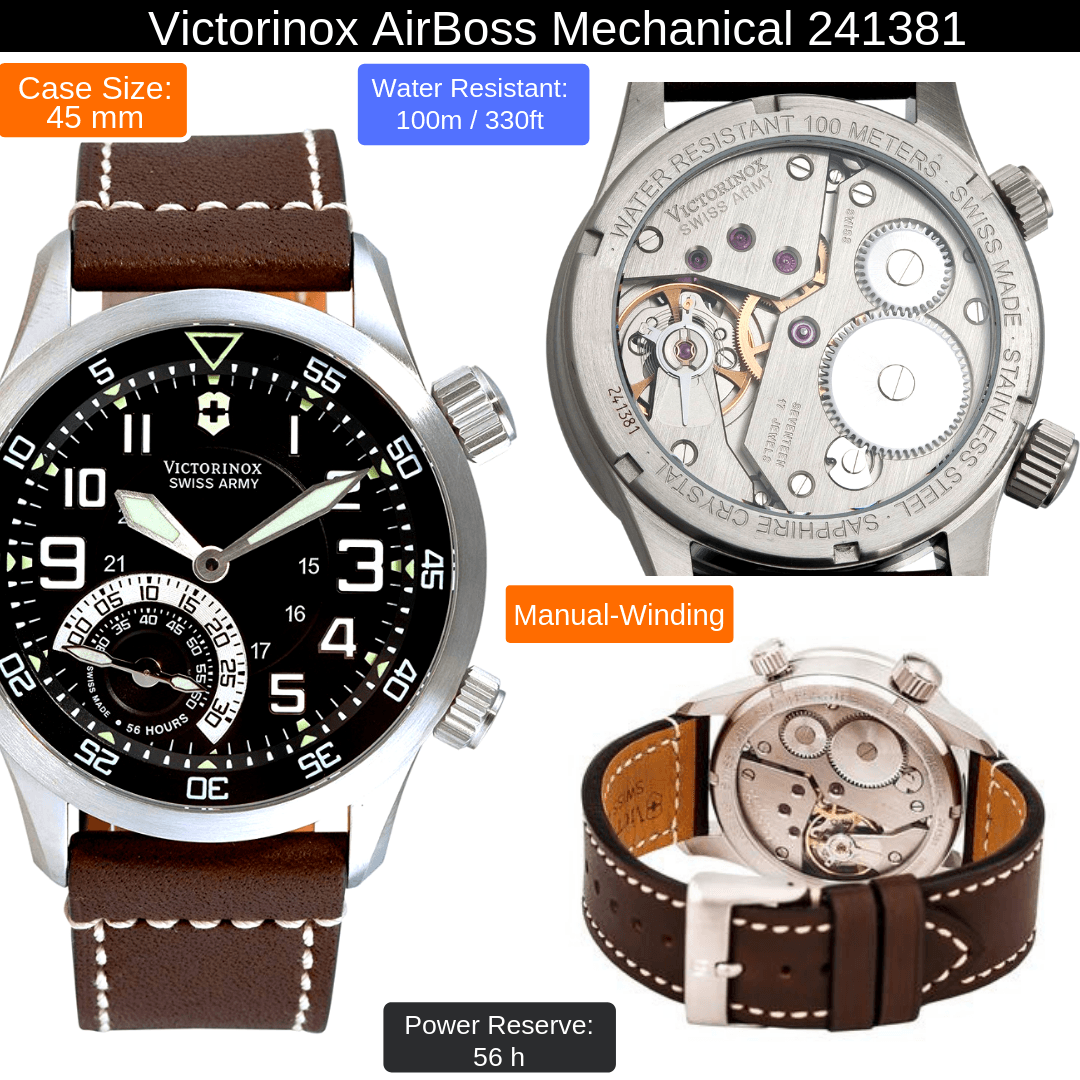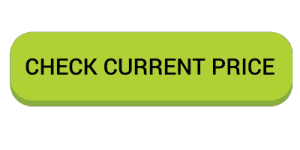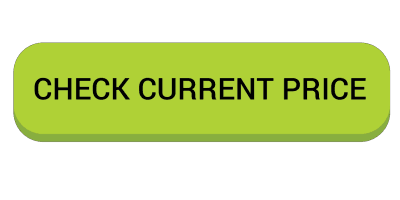 If the Victorinox name sounds familiar, it should. They're famous as the maker of Swiss Army Knives, perhaps the second-most useful tool ever created — after the mechanical watch, of course. It's Swiss, of course, and has all the craftsmanship you'd associate with anything manufactured in Switzerland. The AirBoss is a military-style pilot's watch. The face is a deep gray with a finely hammered texture, and its numerals are so plain they're stylish. In keeping with its military looks, it has a 24-hour scale along with a sweep second ring along the outside edge of the bezel.
The watch carries the familiar seal of the Swiss Army Company at the top of the dial. The bracelet is a double-locking link type to keep it on your wrist whether you're flying in combat or on the way to vacation. It's self winding, which can actually be a drawback for some aficionados that want to do more than just look at their watches daily. It's one of the best mechanical watches for the money.
---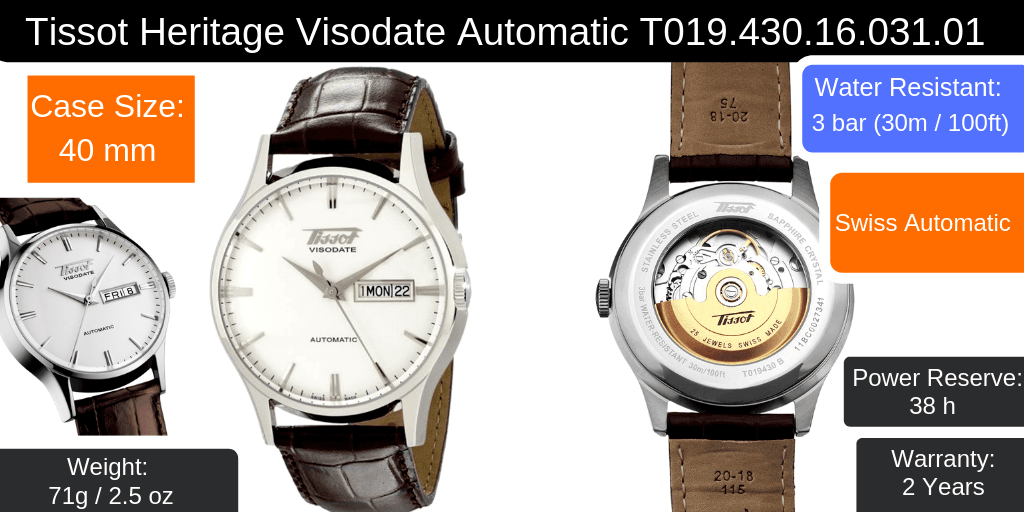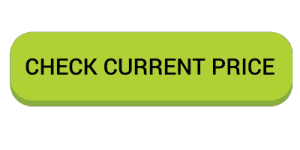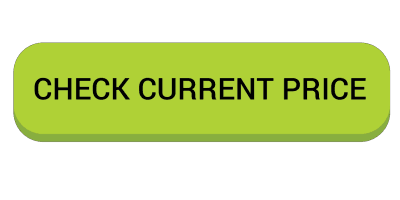 Mechanical watches are old school. The Tissot is an old school version of an old school watch. Tissot watches are also made by Swatch, and the Tissot has one thing in common with the less prestigious nameplate: it's inexpensive for what you get. If you're not trying to look like a fighter pilot or one of Jacques Cousteau's ship hands, the Tissot might be right for you.
It has the look of a watch you'd see Cary Grant check on his way to pick up a date on the Riviera. With a bright white face and silver dashes for numerals, it's easy to read at a glance with absolutely no clutter. It has a chrome case, and it's self-winding. Perhaps its most elegant feature is its crocodile patterned leather strap, another nod to the 1950s. It looks like more than a man's watch. It looks like a man's man's watch.
---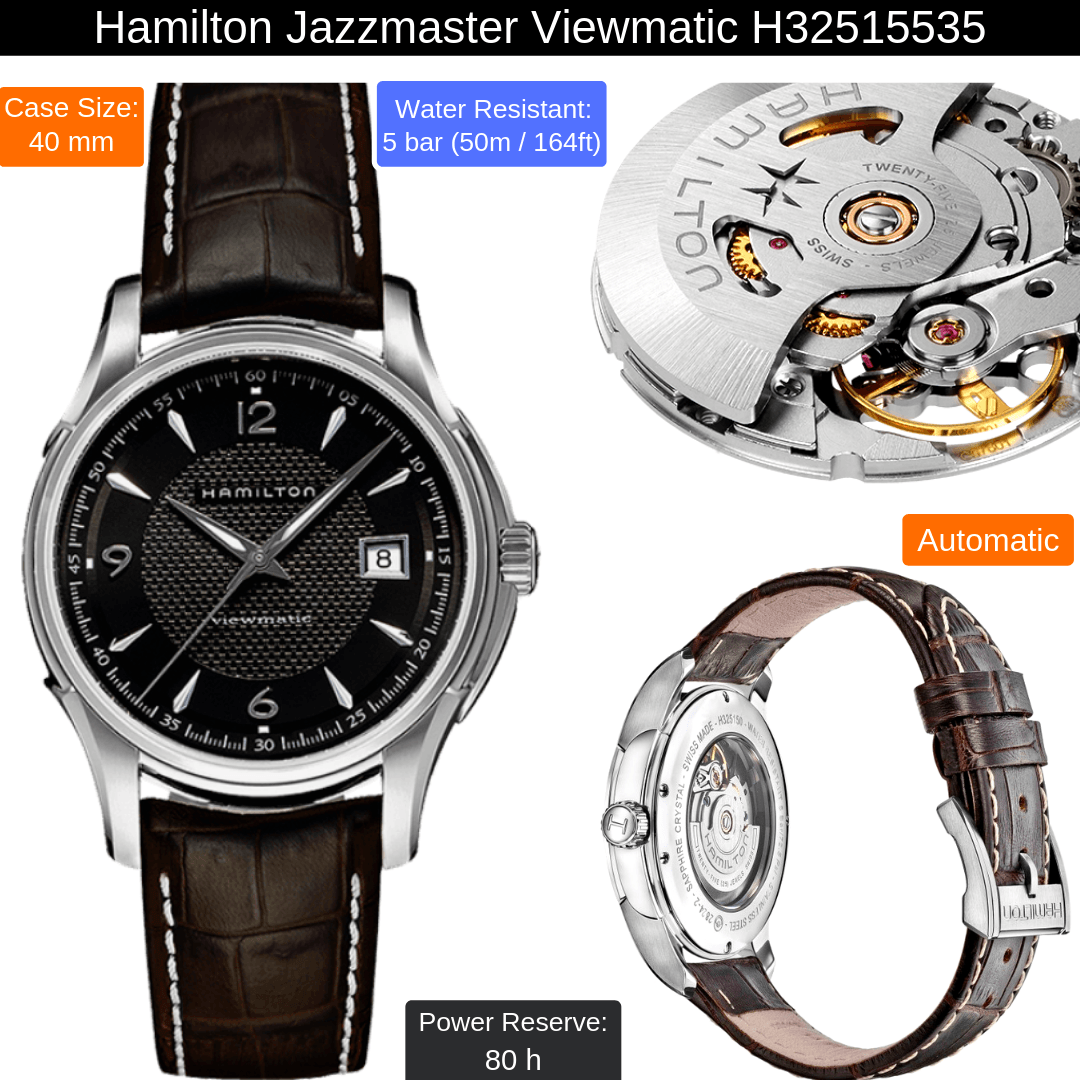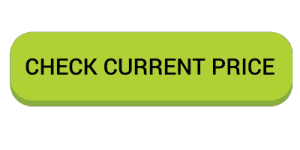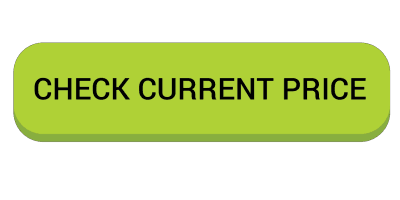 If the Tissot Heritage and Grace Kelly are just too plain looking for you, but you don't want to wear a big gauntlet on your wrist, try the Hamilton Jazzmaster on for size. It has a bit of an old school vibe like the Tissot, but its face is busier and looks more businesslike. The second ring along the outside of the face is so small and finely drawn that it looks like a decorative element, but the face itself is easy to read. There's a textured circle in the center of the face to make it easier to see the hands against the face at any angle.
This watch has a wonderful sapphire back so you can watch the watch go tick, tick, tick when you take it off. The Hamilton also features a very civilized looking crocodile patterned leather strap that adds a little extra tone to the already elegant watch.
---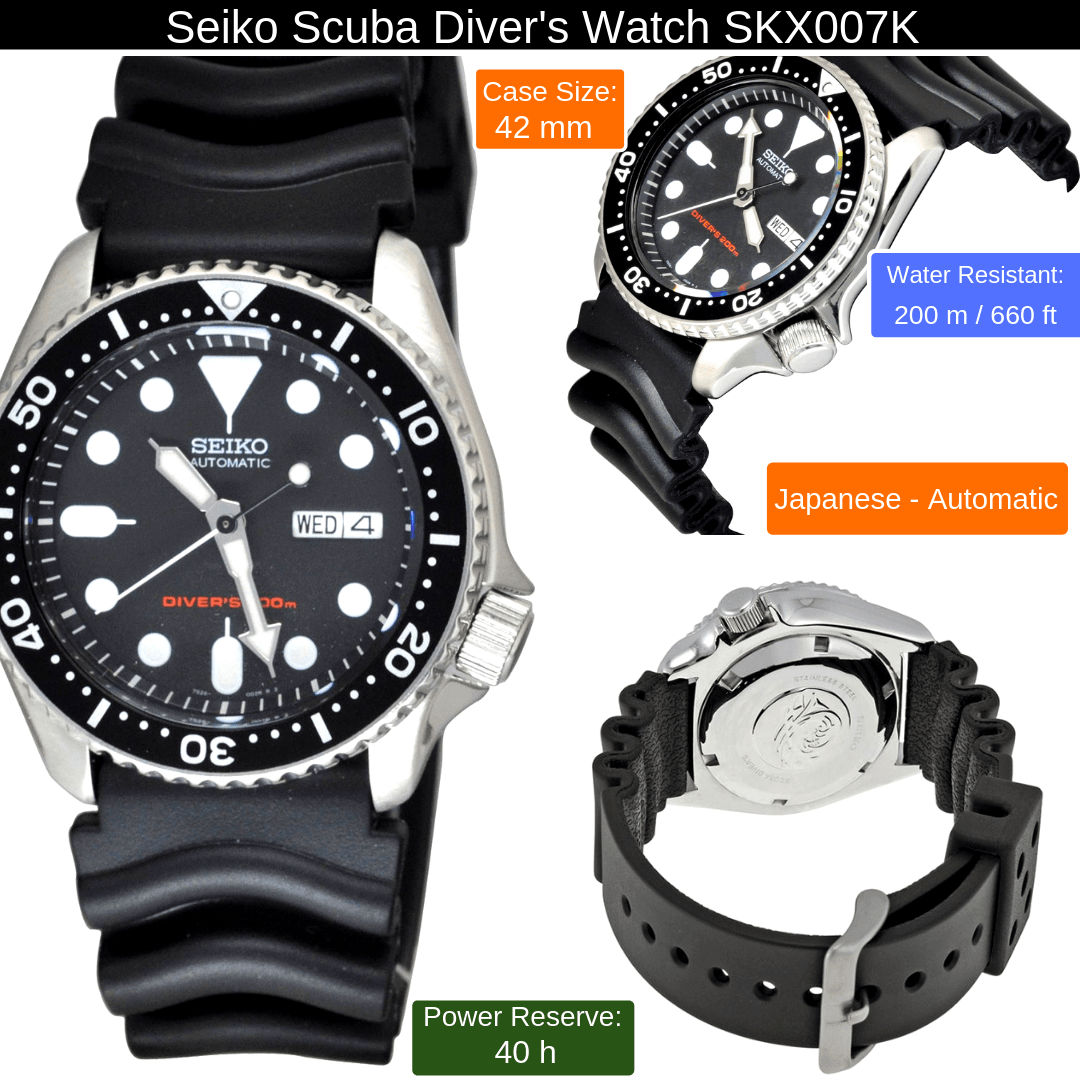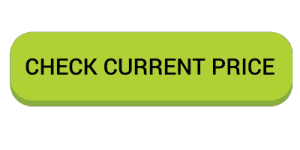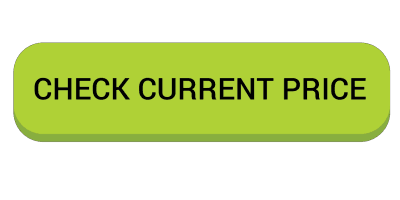 If you're looking for the best mechanical watch that is affordable, Look no further than the Seiko Scuba Diver. They're not made in Switzerland, of course, but the Japanese have an equally prestigious reputation for great mechanical watches. It looks completely unlike any of the other watches we've featured.
It's got a black face, bezel, and band, and looks like something a Bond villain would wear. Its markings look big, almost cartoonish, but when you're diving, you don't want to be squinting at your watch wondering how much oxygen you've got left. Of course the hands and markings are luminous, improving it as a dive watch and a nightstand backup when you take it off before bed.
---
How to Care for Your Mechanical Watch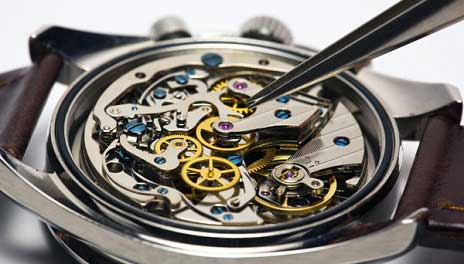 Mechanical watches are built to work flawlessly for a long time, but there are some habits you can get into to keep your watch in tip top shape:
• Take your watch off your wrist to wind it. It's tough on the stem if you wind it while wearing it
• Don't let the watch completely wind down if you can help it
• When winding, stop before you meet substantial resistance
• Don't expose your watch to strong magnetic fields. It probably won't hurt it, but it can make it lose or gain time
• Don't expose it to severe shocks or direct blows
• When setting the time, always move the hands forward, never backward
• If you have a date counter on your mechanical watch, don't reset it between the hours of 9PM and 2AM. The same stem sets the day and time, and when it's pulled out all the way it's delicate. Your date counter is engaged between the hours of 9 and 2, so set the time when the gears are free
• Be careful of bug spray and sunscreens. Some can wreck your watchbands
---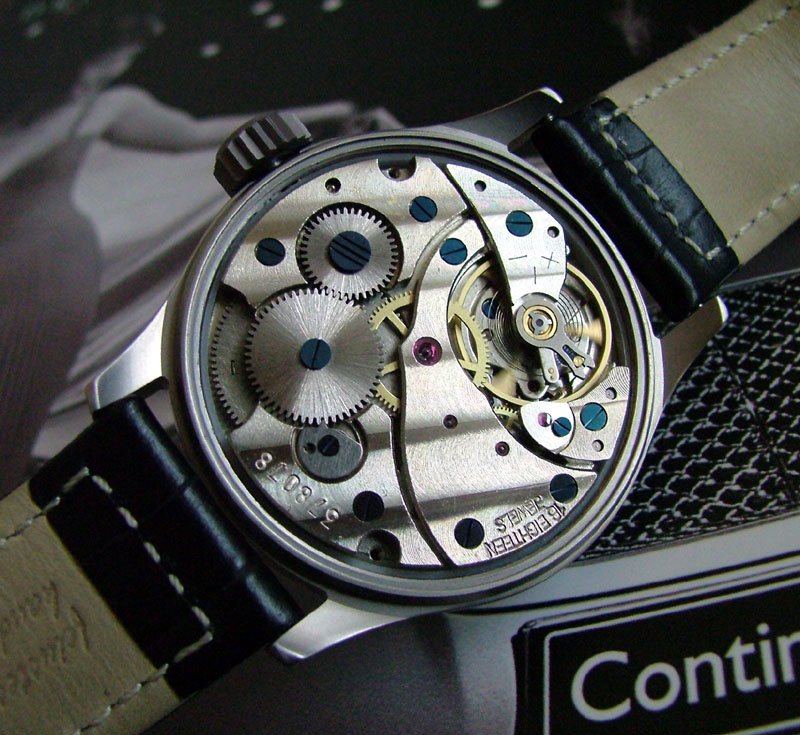 Mechanical watch is the real article, and its intricate and finely crafted mainsprings, balance wheels, and escapements make that fantastic ticking sound that counts the passage of time in an elegant and interesting way. A quartz watch is a tool for telling time. A mechanical watch makes a statement about the style and sophistication of the owner.
Since the market for watches that simply keep accurate time has been taken over in large part by electronic watches, mechanical watches have become fashion statements and high-end accessories for both men and women. Let's face it: almost every gadget you own, from your iPhone to your toaster oven, can tell you what time it is. When you're shopping for a watch, you want to wear something wonderful on your wrist, and enjoy looking at it every time you turn your hand over to look at it.
While the discerning watch buyer knows that a fine mechanical watch costs more than a Timex from a mall kiosk, there's no reason to take out a second mortgage on your house to buy a really fine mechanical watch.
Conclusion
A watch makes a personal statement about the man who wears it. Of course wearing mechanical watches instead of humdrum quartz watches sets you a bit apart from other people that wear regular watches.
If you want people to notice your watch because it's an interesting and finely crafted mechanism, not because it's gaudy, any one of these watches will tell the time in high style, but they're guaranteed to waste a little of your time every day when everyone asks you to see that wonderful watch you're wearing. It's a small price to pay for the pleasure that comes with checking the time on any of these beautiful mechanical watches.