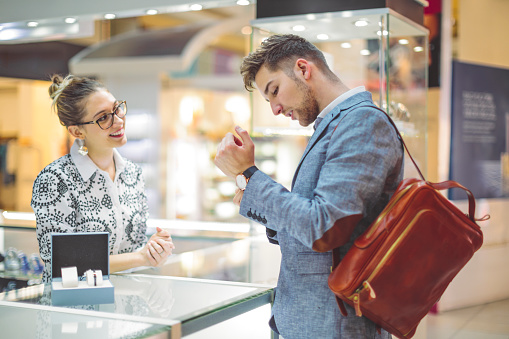 You do not need to be wealthy to own a finely crafted, highly reliable timepiece that will last for decades!
For the purposes of this article, we will only be considering watches with Swizz quartz or Japanese quartz movements (as opposed to mechanical/automatic movements, which are typically more expensive).
Quartz movement watches rely on a very peculiar property of quartz crystals: when you run an electric current through a quartz crystal, it vibrates at a precise rate of 32,768 times per second. From there, a basic circuit in the watch "divides down" this number to obtain an accurate one-second count, which sends an impulse to the tiny electric motor in your watch — and thus your second hand makes another "tick". Pretty cool, right?
Since quartz is cheap to acquire, and since basic circuits cost very little to mass produce, a quartz movement provides astounding reliability at a low entry cost.
You do not need to spend thousands to purchase a quality timepiece. I have owned expensive luxury watches from some of the top watch brands for men (TAG Heuer, Omega, and Movado) and yet some of my all-time favorite watches so far have cost me under $200 US.
Let's dive in. For a real workhorse with solid classic looks, I recommend the Citizen Men's Eco-Drive Chronograph Black Fabric which retails for as low as $149 (including shipping) at some premier online watch stores. In real stores, expect to pay just under $200 for this watch — if they aren't offering this price, try to haggle them down, as $200 is certainly a fair price to pay. Any more is a rip-off.
What makes this watch so special? It has a durable fabric strap, bright orange (or vivid white) numerals, a nice three-set of chronograph subdials (showing 60 second, 60 minute, and 24 hour time), a stainless steel case, and sports water resistance down to 200 meters. A perfect military watch or if you need one that can handle some rough adventures!
Pretty good for less than $200, right? Well it gets even better. I love this watch because it is a part of Citizen's Eco-Drive line. Rather than relying on a battery for energy (a typical watch battery may last you 5 years), this watch theoretically will last you for as long as the Sun exists in our solar system. You see, it derives its energy from an embedded solar panel (don't worry, you can't see it) and stores the energy in either a Li-Ion rechargeable cell or a standard capacitor circuit. This way, it continues to run at night.
So not only does this watch keep great time, and will run for hundreds of years with regular exposure to light, but it also is "eco-friendly" — no batteries to purchase and dispose of.
Now, I also am very much excited by Seiko's line of Kinetic Drive watches and their Seiko Solar Watch line, although many of them will cost you just over $200 (closer to $250 at some dealers). Rather than relying on solar energy, as Citizen Eco-Drive watches do, the Seiko Kinetic Drive has a weight-balanced rotor in the watch. Every time your wrist moves, every time you saunter down the street or roll over in bed, the rotor moves slightly. An impressive gear train transfers this energy over to a very small electrical generator, which creates enough electricity to power your watch's quartz movement.
Simply brilliant. I can't decide which I like more, the Eco-Drive or the Kinetic Drive. From a purely pragmatic point of view, I believe the Eco-Drive would theoretically last you for longer: less moving parts. The rotor on a Kinetic Drive, after all, may break after several hundred years of regular wear! Fortunately, you and I won't be around to cry over such a travesty, should it occur.
Finally, I would urge you to look at Seiko's regular quartz movement (battery powered) line of watches. They are well-designed, sport Japanese movement and parts, and start at around $89 at most of the department stores I have been to. An extraordinary watch for the price!
The Seiko 5 line, in particular, is very popular among watch aficionados. For watch purists, Seiko is appealing because in 2009 it is one of the few large watchmakers that is a true, 100% purebred watchmaking company. In other words, all of the parts and pieces in the watch are manufactured and designed by Seiko, with rigorous Japanese quality control.
Many high-end luxury watches, on the other hand, don't always use their own parts! They will often "outsource" the movement, going for a ETA or generic Japanese movement, and simply shove this into the watch case.
So, in such a case, you are only paying for a brand name, and for the company's expensive magazine and billboard campaigns.
Of course, not all luxury watch brands do this, but you would be surprised by how many do. My only complaint with Seiko, in all honesty, is that their designs do not always strike me as the most cutting-edge.
If you enjoy a conservative or classic look, Seiko is a beautiful choice. But for more adventurous sorts like me, the company's line-up sometimes disappoints.
For watches under $200, I would encourage you to look at the Invicta 8926, which can be found online for between $86 and $110 usually. (I foolishly bought mine at the mall and paid an outlandish $166 for it!)
The watch has a great "diver style" and is a bargain for the price. The movement is Japanese automatic (Miyota 8215, if I remember correctly) — a pretty quality movement, and one of the few automatic Invicta watches I would recommend in this price range.
The rest of the watch, however, is NOT Japanese. I suspect it is Chinese or of other Far East origin. Some owners have complained of quality control issues, but my watch seems fine.
It looks beautiful, it was cheap, and I get more compliments on this watch than I do when I wear my $1,000 Omega. Go figure!
My only concern is that the bracelet on the Invicta 8926 scratches somewhat easily, and feels a bit cheap. Still, for $86, you can't expect the world.
Finally, one must not exclude Swiss company Swatch from the discussion of affordable watches. The Swatch line sports Swiss quartz movement, Swiss design and manufacture, and a wide range of styles. I have seen Swatch sold at department stores such as Nordstrom, and they also sell via their own retail stores and web site.
Prices begin at just $50! Swatch, as you may remember from the 1980's, is short for "second watch" — the business model was to encourage people to buy a second watch, a fun and flashy watch. The low price point encouraged Swatch fans to buy many watches, rather than owning just one "expensive and serious" timepiece.
My only concern with Swatch is that resale value is often dubious. Try selling a used Swatch and see how little you get on the aftermarket. Also, the watch's crystal is made of acrylic (plastic, basically) and scratches quite easily compared to mineral crystal and Sapphire crystal.
In closing, I hope this article has served you well. You can't go wrong with a fine Seiko or Citizen, as they both represent the leading edge of Japanese watch design. You also can't go wrong with a handful of Swiss made Swatches. Enjoy them!